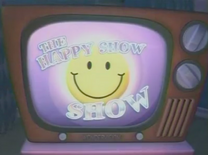 The Happy Show Show was a children's TV show that was hosted by Grandma Taters. The show was used to hypnotize the viewers of the show, put them under Grandma Tater's control, and make them have no feelings except for happiness. She made everyone in Retroville mindless Happy zombies. Luckily, Jimmy and Cindy stopped Grandma Taters and changed everyone back to normal.
Theme song
The Happy Show Show had a theme song. The theme song had two variations.
Variation 1
No more sadness no more fears.
No more badness no more tears.
Just happy happy happy all the day.
Variation 2
No more sadness no more fears.
No more badness no more tears.
And you'll be happy forever.
Trivia
Sheen was the first known character to be hypnotized.
It is unknown as to why Jimmy was not hypnotized after watching the show for the first time, though is it likely due to him quickly changing the channel. He explains that he was not hypnotized the second time because he was only watching through a reflection.
Jimmy released everyone from Grandma Taters' control by dressing up like her and telling all the viewers to go back to normal.
The Happy Show Show is a parody of a Taiwanese show called Fruity Pie.
Community content is available under
CC-BY-SA
unless otherwise noted.