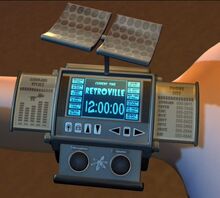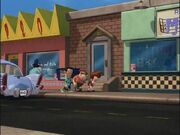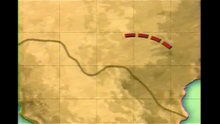 Retroville, Texas is the main setting of the Jimmy Neutron franchise.
Location
In the episode Stranded, there is a scene where Jimmy and his friends take off in the Hover Car for a trip to the equator. Following an argument between Cindy and Jimmy, a map animation that shows the hovercar's route can easily be traced back almost precisely to Austin, Texas. Looking at Jimmy's watch you can see that Retroville time is 12:00 and so is Chicago time, which suggests that Retroville is located in the central standard time zone. The phone number of the Candy Bar, as shown by a receipt, has a 985 area code, which is located in southern Louisiana. Although the reciept was shown in the Jimmy Timmy Power Hour 3: The Jerkinators!, which is considered non-canon, so that might not be the canon phone number.  
Retroville has a downtown area with tall skyscrapers with a freeway system and a convention center. The city imposes a 4% tax rate, as seen on Mr. Giggle's invoice in the episode Hypno-Birthday To You.
Places
Retroville is a large city with skyscrapers and a suburban residential area with parts of the city with a small-town feel. Most places in Retroville are seen or mentioned throughout the series, depicting the layout of the city. Other places located on the outskirts of the city are a military base and a horse ranch.
Candy Bar - An ice cream shop in Retroville where Jimmy and his friends like to eat at.
Lake Retroville - A man-made lake in Retroville.
Lindbergh Elementary School - Jimmy and his friends go to this school.
Pizza Clown - A restaurant in Retroville.
Retroland - Retroville's amusement park located in the suburban parts of the city.
McSpanky's - A hamburger restaurant.
Retroville Convention Center and Sports Arena - A convention center and a basketball arena located in downtown Retroville next to a major freeway.
Retroville Central Library - A public library located on the edge of downtown.
Purple Flurp Factory - A factory in Retroville that produces the popular soda in Retroville.
Retroville Power Plant - The main electricity supply to the city. High tension transmission power lines are seen going through the suburban area of Retroville.
House of Blue Pants: A warehouse store stocked with over a million pairs of pants. Formerly was "House of Blue Laderhosen" but that was closed due to it appealing to a very small market.
Lucky Joe's Cleaners: across the street from House of Blue Pants. Is not owned by a guy named Joe.
Cheese World
Rug World: The business located to the right of Cheese World.
Mime World: It's located to the right of Rug World.
Lucky Tony's House of Garlic: Directly across the street from House of Blue Pants.
Retroville Park - The main city park located between downtown Retroville and the suburban area of the city.
Retroville Zoo - The city zoo located in the suburban areas of Retroville near the edge of the city.
Jimmy Neutron's House - where Jimmy Neutron and his family resides.
Cindy Vortex's House - where Cindy Vortex and her family resides.
Gallery
Downtown:
Trivia
Retro refers to old trends that have regained popularity once again, it is seen in some buildings and cars with 1940, 1950s , and early 1960s style. The Candy Bar seems to have a 1950's style design.
Retroville has an emergency siren system, probably built during the cold war, that sounds whenever the city is in danger. The sirens go off in "Win, Lose and Kaboom" when a meteor hurtles toward Retroville.
Retroville is located in Texas, as evidenced in the episode "Stranded". Also Jimmy mentions the state to Quentin Smithee in Lights! Camera! Danger!

Coincidentally, the show's production studio, DNA Productions was located in Texas, specifically in the city of Dallas.
Community content is available under
CC-BY-SA
unless otherwise noted.